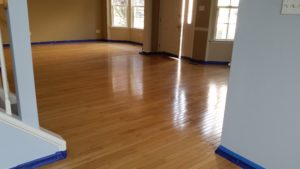 A new or refinished hardwood floor will inject style and elegance into every corner of your home. At Barbati Hardwood Flooring, we stock and install a wide variety of wood colors, species, and stains, arming you with the creative freedom to dream big and create a stunning space. When searching for a Bryn Mawr flooring contractor with a track record for delivering eye-catching results, homeowners know they can rely on the team at Barbati.
Whether you need an experienced crew to conduct repairs, refinish your old boards, or install a new hardwood floor, we are here to transform your indoor space. Call 484-354-8869 today to discuss your design goals with a member of our team.
3 Important Questions to Ask Before Hiring a Company for Hardwood Floor Installation in Bryn Mawr
The hardwood flooring industry is crawling with fly-by-night contractors specializing in false promises and botched installations. But the pros at Barbati Hardwood Flooring have decades of experience flooring homes, businesses, and historical properties, equipping us with the knowledge and skills to tailor your new hardwood floors to your exact preferences.
Make sure you're signing proficient contractors and not professional con artists by always asking these three questions before hiring a company for hardwood flooring installation:
1. Do You Have a Portfolio? Can I See It?
If a contractor cannot produce a portfolio of their past projects, this is a red flag that you aren't dealing with a reliable company. Not only will a portfolio shed light on the quality of a crew's work, but it can also help you identify whether or not a company has worked on any projects similar to yours. At Barbati, we are proud to showcase our past projects as part of a comprehensive portfolio you can browse by clicking here.
2. What Options Do You Offer?
At Barbati, our team has the tools and expertise to customize your new hardwood floor to complement both your home's architecture and interior design elements. Not only do we have hundreds of types of wood to choose from, but we can also create custom border inlays, medallions, accenting borders, and more to give your space a distinctive look.
3. How Experienced Is Your Team?
Even advanced technology and training are no substitute for on-the-job experience. The team at Barbati has spent three decades installing, refinishing, and repairing hardwood floors throughout the area. With our tried-and-tested methods and techniques, you can have peace of mind knowing that your wood floor will maintain its luster through the years with minimal maintenance.
Speak to Our Top Bryn Mawr Flooring Contractors Today
Whatever the project, the knowledgeable crew at Barbati is here to answer your hardwood flooring questions and deliver the results you seek. Call 484-354-8869 today to find out more.