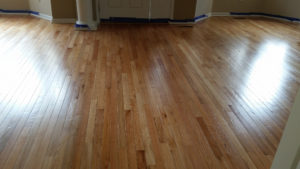 Whether you're shooting for a minimalist aesthetic or a classical setting, hardwood is a miracle material that meshes with most interior design themes. Unlike carpeting, hardwood won't absorb and collect nasty odors and stains. But the full benefits of these boards hinge on one important factor: a professional installation. At Barbati Hardwood Flooring, we have spent more than three decades installing, refinishing, and restoring hardwood floors. When searching for an experienced crew for flooring installation, Mantaloking NJ homeowners know Barbati Hardwood Flooring will deliver eye-catching results.
No matter the project, we always strive to beat our customers' highest expectations. More than 90 percent of our clients are repeat business or referrals.
Our portfolio includes hundreds of homes, historic estates, and upscale restaurants. For more information or to schedule a visit from a member of our team, call us today at 484-354-8869.
FAQs About Hardwood Flooring Installation & Refinishing in Mantaloking NJ
Getting a hardwood floor installed or refinished is a big step, so you probably have a lot of questions. Here are the answers to a few FAQs about hardwood flooring projects:
1. Does hardwood flooring require regular maintenance?
Hardwood is renowned for its durability. It typically takes years of wear and tear before a refinishing is necessary. Cleaning your floor only requires a broom and a mop.
2. Where can I find examples of your previous work?
Our website features several pictures of hardwood flooring we have installed, restored, and refinished. You can browse through samples of our work here, here, and here.
3. Can refinishing really remove scuffs and scratches?
Refinishing can restore every board of your floor, eliminating dents, scratches, and other eyesores. Our crew's meticulous workmanship will rejuvenate your space and leave you wondering if there was ever damage in the first place.
Call Now for Hardwood Flooring Installation and Refinishing in Mantaloking NJ
If you still have questions about hardwood floor repair, refinishing, restoration, or installation, contact our team and let us guide you through the entire process, from first board to final flourish. You'll soon find out why Barbati Hardwood Flooring is the preferred contractor for hardwood floors in Mantaloking NJ. Call 484-354-8869 today to get an estimate.