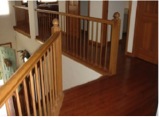 Whether you're building a new home from the ground up or renovating your old one, a high-quality hardwood floor is the perfect ingredient to elevate any space from stuffy to stylish. Take the next step with the crew at Barbati Hardwood Flooring. We have more than three decades of experience transforming rooms, helping homeowners net the timeless benefits of having their own hardwood floors. When in need of hardwood flooring installation, Saddle River NJ residents trust our talented team to deliver long-lasting and eye-catching results.
Our pros are trained to work with a wide range of wood flooring, from nail-down and staple flooring to glue-down and floating flooring. For a free estimate, call us today at 484-354-8869.
Why Can't I Just Install My Hardwood Flooring Myself?
With lower costs, the DIY route is tempting, but installing hardwood flooring is a complex process requiring advanced techniques that take decades to master. And remember: One mistake can turn your dream space into a nightmare as you're forced to fork out thousands of dollars for repairs and maintenance when your new floor starts to buckle.
Don't settle for an amateur result; call in the pros at Barbati for a new flooring installation. Our team can also install engineered wood as well as pre-finished and unfinished wood flooring products. During your initial consultation, we will discuss your design goals and then do everything we can to achieve them.
Can Barbati Install New Hardwood Floors That Match My Existing Boards?
Certainly! We understand that you want a new floor that complements your home's existing architecture, décor, and other flooring. We have access to countless styles of floorboards, enabling us to find and install matching floors quickly and professionally. At Barbati, we have built our reputation on the back of our many historic hardwood flooring restoration projects and take great pride in merging old and new to deliver unique and stunning results.
Call Now for Hardwood Flooring Installation Saddle River NJ Residents Love!
When searching for a team to install a new hardwood floor, Saddle River NJ homeowners know the team at Barbati Hardwood Flooring has the right skillset, training, and experience to get the job done right. Call 484-354-8869 to find out more.