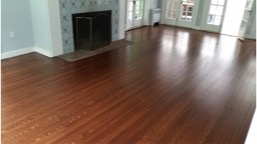 Hardwood flooring will help breathe new life into your home or business, instantly transforming rooms and adding value with every board. Are you ready to take the next step? The team of experts at Barbati Hardwood Flooring has floored hundreds of homes and several upscale restaurants.
When searching for a company for hardwood flooring installation, Ocean View DE residents trust our committed team to turn their big ideas into real spaces. Call 484-354-8869 for an estimate.
Until then, read on to find out how your home or business could benefit from a new hardwood floor:
1. It's Safer and Cleaner Than Most Other Surfaces
Carpets collect dirt and grime, transforming them into breeding grounds for harmful germs. A hardwood floor repels stains and leaves life's daily debris with no place left to hide. The result: you will spend less time stressing over spills and more time living in and enjoying your space.
2. It Requires Less Maintenance
Hardwood floors cost more to install than carpets or linoleum but require far less maintenance and will last longer than most other surfaces. Where even the slightest sign of damage marks the end of a carpet's lifespan, most dents, scratches and scrapes on hardwood flooring are easily repaired, patched and refinished by an expert crew like ours.
Hardwood floors have a natural strength that will endure for generations while costing you less in the long run than almost any other option on the market.
3. It Allows You to Customize Your Space
Some materials will hamstring your vision, but hardwood flooring will help unlock your imagination. This surface is available in near-infinite different styles, with multiple combinations of stains, construction techniques and materials paving the way to a finished product that will suit any space.
4. It Will Help You Sell Your Home
Homebuyers prefer homes boarded with hardwood flooring as the material creates a beautiful, classic and distinctive look that most other surfaces cannot recreate.
The Flooring Installation Ocean View DE Residents Recommend!
Upgrade any space, whether it's your home or business, with a quality hardwood floor from our veteran flooring experts at Barbati. Call 484-354-8869 and start your new project today!