Factories can churn out endless reams of cheap flooring, but professional craftsmen understand the importance of using high-quality materials to create a timeless and elegant look. At Barbati Hardwood Flooring, our crew has decades of experience helping New Jersey homeowners and business owners inject new life into their indoor spaces. When searching for experts in hardwood flooring installation, Short Hills residents turn to Barbati.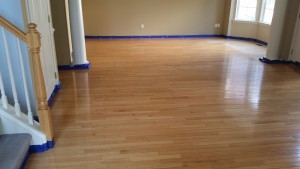 Our team has floored hundreds of homes and several upscale restaurants, designing custom border inlays and other creative accents to give each space its own unique flair. Call 484-354-8869 today to upgrade your interior space.
What Sets Barbati Apart from Other Hardwood Floor Contractors in Short Hills?
If you hire a low-cost contractor, you should expect subpar results, and the long-term cost will likely be higher when you account for repairs and a shorter lifespan overall. Installing or restoring a hardwood floor requires an experienced crew. The pros at Barbati have spent many years honing their skills and pioneering new hardwood flooring installation techniques and styles.
With every hardwood floor we refinish, restore, or install, our goal is to leave the client with a space that won't lose its shine. Whether you're searching for a crew to install a new floor or to repair damage to your existing hardwood floors, the team at Barbati has built a reputation on delivering beautiful results. Our hardwood floors are engineered to repel stains and resist damage caused by moving furniture, excited pets, enthusiastic children, and other hazards.
Since 1987, we have worked on a wide range of properties, from upscale restaurants and modern homes to historic buildings. To see just a few examples of our recent projects, click here.
We install nail-down flooring, staple flooring, and glue-down flooring. Our crew has experience working with engineered, unfinished, and prefinished hardwood flooring. We can also create custom wood inlays, borders, and medallions.
Call Us Today for Hardwood Flooring Installation in Short Hills NJ
When searching for a company to install a new hardwood floor, Short Hills NJ residents know Barbati will deliver stunning results. Call 484-354-8869 to find out more.