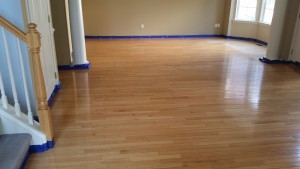 A professional hardwood floor installation can add style, sophistication, and value to your home. At Barbati, we have access to wide range of wood species, stains, and colors, enabling us to tailor your new hardwood floors to your tastes. When looking for experts in hardwood flooring installation, Alpine NJ homeowners know Barbati has what it takes to turn big ideas into beautiful spaces.
Since 1987, we have floored hundreds of homes and several upscale restaurants, helping home- and business owners take their rooms to the next level. Call us today at 484-354-8869 to speak with one of our expert craftsmen.
3 Qualities to Look for Before Hiring a Hardwood Floor Company in Alpine NJ
A quick Google search for wood floor installers will turn up hundreds of contractors promising breathtaking results. But very few can deliver on their bold claims. If you trust your project to an amateur, you'll likely be left footing the bill for repairs or an entirely new installation. At Barbati, not only do we have the experience, talent, and knowledge to design beautiful hardwood floors, but we also have the creativity to make your floor a distinctive complement to your existing interior space.
Here are just a few reasons why Alpine NJ residents turn to our team for hardwood flooring installation and refinishing:
1. A Stellar Portfolio
Our portfolio features a wide range of projects, from hardwood floors we have installed in modern homes, antique homes, and upscale restaurants, to examples of custom border inlays, accenting borders, and medallions.
2. Plenty of Material Options
Creating a unique look requires one-of-a-kind materials. At Barbati, our craftsmen are trained to work with different wood species, colors, and stains to design beautiful and durable hardwood floors that can meet the demands of our most discerning customers.
3. Decades of Experience
Over the past 30 years, the pros at Barbati have been pioneering new wood flooring installation techniques and styles. We stick to one simple rule: The job isn't done until you are absolutely delighted with the look of your new floors.
The Hardwood Floors Alpine NJ Homeowners Love!
If you have any questions about hardwood floor repairs, refinishing, or installation, contact Barbati today. Call 484-354-8869 to discuss your new project with one of our experts.