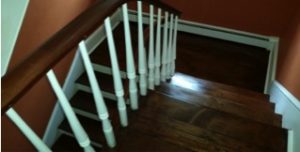 Historic wood flooring has a classically beautiful look that simply cannot be replicated without the right materials and construction techniques. The pros at Barbati specialize in historic wood flooring repairs, refinishing, and installation. We can help you find the best materials to match the look of your existing floor, and if you want a historic floor built from scratch, we have a variety of woods and flooring styles to choose from.
We have installed hundreds of wood floors in historic homes, contemporary homes, and upscale restaurants. Call us today at 484-354-8869 to discuss your hardwood flooring needs.
How Does Barbati Obtain Wood for Historic Homes?
Our goal when building or restoring a historic wood floor is to be as authentic as possible. We can obtain antique wood from many sources including old mills, barns, buildings, and other antique structures. We have access to wood harvested from 100 to 300 years ago that still maintains its stunning beauty.
How Can I Get Answers to My Questions About Historic Wood Flooring?
If you have questions about historic wood flooring, call us today at 484-354-8869. We can answer your questions, listen to your hardwood flooring goals, and create a plan to help you achieve them. We'll help you choose the perfect wood to complement your home and your personal taste.
Can I Use Antique Wood to Build a New Floor?
Absolutely! Antique wood has a timeless beauty that simply cannot be matched by contemporary flooring materials. Our historic wood floors look stunning in bathrooms, hallways, kitchens, and bedrooms. With a professional finish, your antique wood floor will be perfect for high-traffic areas and will be able to resist scuffs, scratches, and moisture damage.
Contact Barbati Today to Discuss Your Historic Wood Flooring Needs!
Whether you need historic wood flooring for your home or business, the pros at Barbati have the knowledge, experience, and materials to turn your dream wood floor into a reality. We have been refinishing, installing, and restoring wood floors since 1987.
As a testament to our high service quality, more than 90 percent of our clientele are referrals and repeat customers. Call us today at 484-354-8869 to learn more.