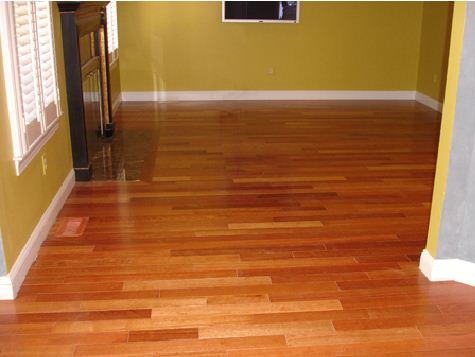 In the past, if you wanted a stylish, natural flooring solution, authentic hardwood was your only choice. Now, more and more homeowners are discovering the benefits of using engineered flooring in their homes. But what is engineered flooring? In the article, the pros at Barbati explain the ins and outs of this modern hardwood product.
For many decades, Barbati has been at the forefront of the hardwood flooring industry, pioneering new installation techniques and effective refinishing processes. Call 484-354-8869 today to speak to one of our flooring pros.
Why Choose Engineered Flooring
Engineered hardwood is constructed from multiple layers of wood, each positioned to reinforce the overall board. This prevents bowing and warping typically associated with genuine hardwood products. Back in the day, engineered hardwood could not match the beauty of authentic boards, but manufacturing advances have turned this cost-effective product into a coveted household staple.
However, engineered hardwood still needs to be maintained to ensure it isn't ruined by scratches, stains, and other signs of damage. Fortunately, these products can still be refinished, giving each board added mileage.
Engineered hardwood is available in countless colors, stains, and patterns. Our pros can help you select boards that complement your home's interior design theme while still adding contrast and texture to your rooms. We can also create custom border inlays, medallions, and other decorative additions to give your floors their own distinct look.
While you can install engineered hardwood boards yourself, the results often leave a lot to be desired. Mistakes during installation can cause your boards to warp, bow, or buckle, forcing you to shell out hundreds – if not thousands – of dollars for repairs. Need new floors? Turn to our pros instead.
At Barbati Hardwood Flooring, we install a range of flooring products, including both genuine and engineered hardwood products. Our crew has experience working with staple flooring, glue-down flooring, nail-down flooring, and floating flooring. Whether you want to replace your flooring, reinvigorate aging boards, or install new hardwood, we can take care of all your flooring needs.
Need New Floors? Contact Us Today
Engineered hardwood is a versatile, durable, and beautiful material. In the hands of the pros at Barbati, this product will make your rooms shine. Contact us today at 484-354-8869 for more information about our refinishing, restoration and installation services.