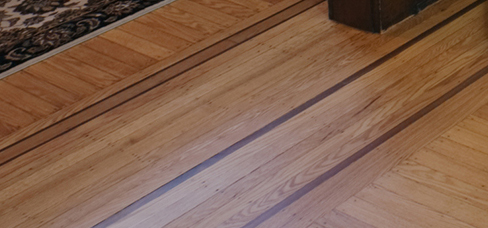 Hardwood flooring will never go out of style, but without the right personal touches, this timeless material can quickly fade into the background. At Barbati Hardwood Flooring, our pros can create custom wood floor border inlays, accents, medallions, and more to transform your ordinary rooms into extraordinary spaces.
Over the past 30 years, we have floored hundreds of homes, historic properties, and upscale restaurants. While the world has changed drastically during that time, our commitment to providing exceptional quality and a comfortable customer experience has never wavered. More than 90 percent of our clients are repeat business or referrals. Find out how we can enhance your hardwood floors today by calling 484-354-8869.
What Are Wood Floor Border Inlays?
This decorative addition is designed to slot into your flooring to frame or shape your space. Hardwood floor border inlays can vary from simple lines and stains to exquisite patterns and vivid colors. While you can pick up prefabricated inlays at your local hardware store, you'll struggle to find a solution that matches your boards and reflects your personal sense of style.
At Barbati Hardwood Flooring, we believe in taking a personalized approach. During your consultation, one of our pros will evaluate your interior design and existing floors, provide suggestions on the best way to enhance your hardwood, and work meticulously to create stunning border inlays, medallions, and more to ensure the overall look is in line with your aesthetic goals.
Whether we're replacing damaged boards, installing new flooring, or restoring antique hardwood, we use only the highest quality of materials and advanced techniques to ensure each project we handle will stand the test of time. You'll struggle to find a more thorough, talented, or committed team of flooring professionals.
Contact Us Today for Beautiful Wood Floor Border Inlays
Custom wood floor border inlays can transform your space and breathe new life into your home. At Barbati, our crew will go the extra mile to ensure every element of your hardwood flooring meets your highest standards. Call us today at 484-354-8869 to schedule a consultation. We will listen to your goals and create a detailed plan to bring your dream interior space to life.