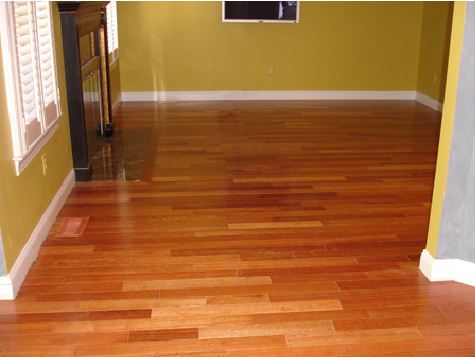 If you've spent any time shopping for hardwood flooring, you've probably encountered the term "glue-down hardwood floors" more than once. But what is a glue-down hardwood floor? In this article, the team at Barbati Hardwood Flooring discusses the pros and cons of this flooring product and whether its right for your home or office.
We have more than 30 years of experience installing, refinishing and repairing hardwood floors in modern homes, historic properties, and upscale restaurants. Our expertise enables us to customize every element of your new flooring, from the type of wood to the stain and finish. Contact us today at 484-354-8869 to get started.
Is Glue-Down Hardwood Flooring Right for Your Home?
Glue-down hardwood floors are installed by using a strong adhesive to fix the boards to a sub-floor underneath. Gluing the boards results in a tight fit that feels solid under your feet. Additionally, the adhesive acts as a barrier against moisture, protecting your boards from water damage. However, glue-down floors do take longer to install than floating or nail-down flooring. As a result, the installation is more labor intensive than other options.
If you're not sure which flooring product is best suited for your space, the pros at Barbati Hardwood Flooring are here to help. Our knowledgeable flooring specialists will visit your home or office, evaluate your rooms, and provide recommendations on the best boards to help you achieve your design goals.
We install pre-finished, unfinished, and engineered wood flooring products, and have experience with a range of installation methods. We can also design and install stunning borders, intricate medallions, and beautiful inlays to give your floors a distinctive look.
Besides hardwood floor installation, we also specialize in expert refinishing, restoration, and repair. Our team can restore your floors, removing scuffs, stains, and other marks that have gathered over time. When our work is done, your floors will look good as new.
Call Us Today for Expert Glue-Down Hardwood Floor Installation
Whether you want to reinvigorate your historic property or update your office space, our team has the talent and tools to turn your ideas into a beautiful hardwood reality. Contact us toady at 484-354-8869 to find out more.