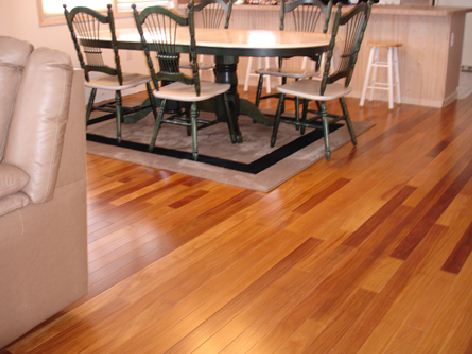 Engineered hardwood is designed to last, but to unlock the full potential of this high-quality material, you'll need a team that's up to the task. At Barbati Hardwood Flooring, our flooring pros have 30 years of experience installing and refinishing boards throughout the area. If you need help with your engineered hardwood floating floor installation, we have you covered.
Our expertise doesn't just ensure that we install your floors correctly, but also enables us to tailor your new hardwood floors to your exact tastes. Call us today at 484-354-8869 to find out more.
What Is Engineered Hardwood Floating Flooring?
Engineered hardwood floors are made up of a real hardwood surface layer and reinforced with underlying layers of plywood or soft wood. With this material you get the same classic aesthetic of the real deal at a fraction of the cost. Engineered products are often more resistant to temperature, humidity and other environmental fluctuations than genuine hardwood.
When we talk about floating flooring, we are referring to how it is installed. Typically, floorboards are either nailed or glued down. However, floating flooring isn't fixed in place and instead it relies on its weight to stay situated. Not only is this type of installation faster than more conventional methods, it also requires fewer materials.
About Our Engineered Hardwood Floating Flooring Installation
At Barbati Hardwood Flooring, our pros have experience installing a range of hardwood products, including nail-down, glue-down, staple and floating flooring. We will evaluate your space, discuss your design goals, and help you determine the best type of flooring for your home or business. We can even install beautiful medallions, borders, and inlays to create a more distinctive look.
Unlike some other contractors, we have decades of experience in the flooring industry. During that time, we've floored hundreds of properties, from upscale restaurants to historic homes. Besides flooring installation, we also offer a range of refinishing, re-patching, and restoration services. Our experienced pros will reinvigorate your flooring, eliminating scratches, dents, and scuffs to restore your boards to their original luster.
Speak to a Floating Flooring Expert Today
The right hardwood boards can enhance any space, injecting class, sophistication, and style into your home. Unlock the full potential of your rooms with help from the crew at Barbati Hardwood Flooring. Contact us today at 484-354-8869 to get a quote.