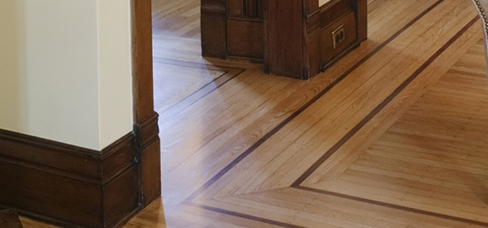 Genuine hardwood flooring can shine on its own, but a custom decorative inlay will elevate your boards to a new level of style. From borders to medallions, there are hundreds of ways to enhance your hardwood floors. At Barbati Hardwood Flooring, our pros have decades of experience installing hardwood floors and will create custom design elements to help your flooring shine. In this article, we discuss how to incorporate decorative hardwood flooring inlays as part of your interior design theme.
Besides hardwood floor installations, we also specialize in refinishing and restoration. We have installed and repaired floors in hundreds of homes, historic properties, and upscale restaurants. Contact us today at 484-354-8869 to schedule a consultation.
What Are Decorative Hardwood Flooring Inlays?
An inlay slots neatly into your flooring to add contrast, depth, and character to your space. Typically, this inlay is made using a different species of wood than the rest of your flooring. As a result, when you stain, sand, or refinish your floors, this custom design element will stand out and make a dramatic impact.
Using darker stains will heighten this contrast, while lighter stains will result in a more subtle, streamlined look. Inlays can range from simple, straight borders to frame your space, to intricate geometric shapes and blooming medallions that will give your floors a distinct look.
Not sure which inlay is best for your boards? Turn to the pros at Barbati. We will visit your property, assess your space, and provide suggestions on the best ways to enhance your flooring. With decades of experience creating custom inlays, there is no limit to what we can do for you and your home.
We also specialize in restoring and refinishing old hardwood flooring. Our pros will sand away scuffs, scratches, and stains to restore your boards to their original luster. And if you want brand new hardwood floors, we've got you covered, too. We offer complete installations for a range of flooring products including both engineered and genuine hardwood boards.
Want Decorative Hardwood Flooring Inlays? Call Us Today
Transform your hardwood floors with decorative hardwood flooring inlays created by the skilled craftsmen at Barbati Hardwood Flooring. Contact us today at 484-354-8869 to get a quote.