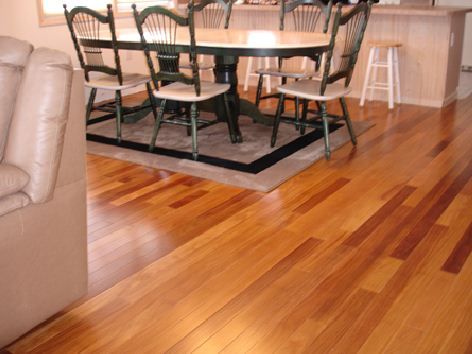 While beautiful hardwood flooring can stand on its own merits, the right handcrafted decorative flourishes will elevate your rooms to a new level of elegance and sophistication. At Barbati Hardwood Flooring, we can create custom border accents, inlays, and wood medallions for floors to give your spaces their own unique flair.
We have more than three decades of experience helping homeowners and businessowners transform their properties. Our skilled craftsmen have the talent and tools to install new hardwood floors; repair, refinish, and restore antique boards; and implement innovative decorative techniques to enhance your flooring. Call 484-354-8869 today to schedule a consultation.
What Are Wood Medallions?
Wood medallions are crafted using different types and stains of wood to create a piece of artwork that slots seamlessly into your hardwood floors. While you can find prefabricated medallions at your local hardware store, these mass-produced additions are often poorly made and tend to cheapen the overall appearance of your hardwood flooring.
At Barbati Hardwood Flooring, we will create wood medallions tailored to meet to your unique aesthetic goals and reflect your personal sense of style. With our expertise and commitment to high-quality craftsmanship, you can rest assured this decorative addition will enhance your flooring and complement your home's architecture and interior design elements.
But our skills are not just limited to creating stylish wood medallions; custom border and corner inlays are also a great way to frame your hardwood flooring and accentuate this high-quality material. The skilled contractors at Barbati will evaluate your space, discuss your design goals, and help you determine how best to enhance your hardwood floors.
Contact Us Today for Beautiful Wood Medallions for Floors
In the right hands, wood medallions can breathe new life into any space. The hardworking pros at Barbati Hardwood Flooring have the artistic vision, expertise, and tools to unlock the full potential of your property. Besides creating custom border inlays and accents, we also specialize in installing new boards; restoring historic flooring; and repairing, patching, and refinishing damaged hardwood. Call us today at 484-354-8869 to speak to a member of our team. We'll visit your property, listen to your goals, and help you bring your vision to life.