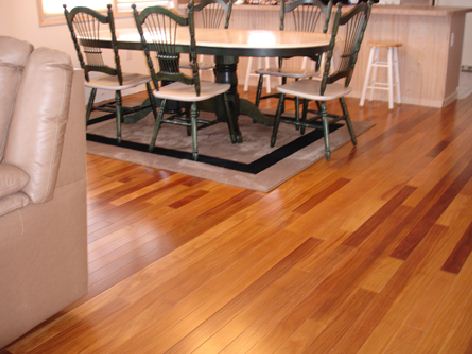 Even the sturdiest hardwood floors aren't immune to scratches, dents, and stains. When your old boards start to show their age, you'll be faced with a tough decision: is it time replace your flooring or try salvage what's left? At Barbati Hardwood Flooring, our pros will assess the condition of your hardwood floors and provide solutions that best suit your space and budget. In this article, we will discuss the cost of refinishing hardwood floors vs. new floors installation and how our pros will help restore your old boards.
At Barbati Hardwood Flooring, we install, repair, replace, and refinish hardwood flooring. Our pros can also create custom border inlays, medallions, accents, and more to enhance your floors. Find out what our team can do for you and your home by contacting us today at 484-354-8869.
Is It Time to Replace My Flooring?
On the surface, your hardwood floors may look damaged beyond repair. Stubborn stains, unsightly dents, and savage scratches – courtesy of your home's over-enthusiastic pooch – can ruin your room's aesthetic. But before you tear up your flooring and spend a small fortune to replace each board, you should consider high-quality refinishing.
Not only is this restorative process cheaper and quicker than installing brand new floors, our pros can also customize the overall look of your boards, lightening or darkening the color of your hardwood upon request.
At Barbati Hardwood Flooring, we offer the most complete forms of floor restoration in the industry. Our talented team will begin by sanding down your boards revealing the unblemished wood underneath. Then, we will apply protective coatings of polyurethane to safeguard your hardwood floors against damage down the line. Depending on the size of your floors, the refinishing process can be completed in 3 to 5 days.
Repair and Restore Your Floors With Barbati Hardwood Flooring
When your hardwood floors start to lose their shine, the pros at Barbati Hardwood Flooring will restore them to their original luster. Besides refinishing floors, we also have a healthy expertise and background in repairing older antique floors in historic properties. Call us today at 484-354-8869 to get a quote.