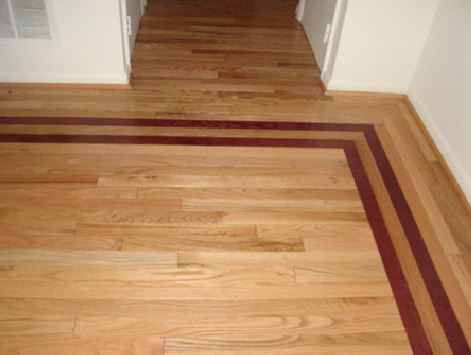 Hardwood floors are beautiful in their own right, but a custom-designed medallion inlay can add an extra layer of sophistication and style. At Barbati Hardwood Flooring, we specialize in creating medallions that will give your flooring its own dinstinct look. In this article, we discuss how to incorporate and install a hardwood flooring medallion inlay as part of your existing floors or a new flooring installation.
Besides designing custom inlays, we also offer installation, refinishing, and restoration services. With decades of experience working in the industry, we have the tools, knowledge, and expertise to transform your rooms. Call us today at 484-354-8869 to find out more.
What Are Hardwood Flooring Medallion Inlays?
Constructed from sturdy hardwood, a medallion is a piece of handcrafted art that slots neatly into your floors. Unlike floor borders, which are installed around the edges of your flooring to draw attention to the dimensions of your room, a medallion serves as a way to add character to your boards.
In most cases, a medallion inlay is constructed from a different type of wood than the rest of your boards. This helps the medallion stand out after the floors are sanded and stained. While installing a medallion takes just a few minutes, it's a task that demands precision as you will have to cut the boards back to accommodate this addition. (Medallions are installed on the subfloor.)
If you're not sure whether your floors will benefit from the addition of a custom medallion inlay, turn to our pros for advice. We will visit your home, discuss your design goals, and provide our recommendations on the best ways to incorporate custom inlays as part of your floors. Our craftsmen specialize in incorporating distinct details that will elevate your floors to a new level of sophistication and style.
At Barbati Hardwood Flooring, we also refinish and restore old hardwood boards. Using advanced refinishing techniques, our crew can erase damage such as stains, scratches, and scuffs, restoring your flooring to its former luster.
Contact Us Today for Custom Medallion Inlays
The addition of a medallion inlay can do wonders for the overall look and feel of your flooring. At Barbati, we've spending decades honing our skills, enabling us to turn your dream designs into a hardwood reality. Contact us today at 484-354-8869 to schedule a consultation.