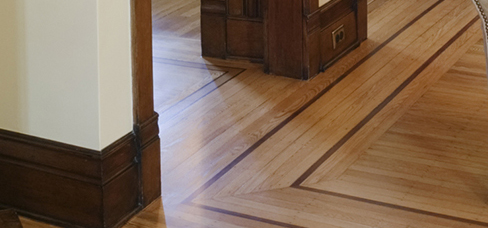 Hardwood boards will shine by themselves, but a custom border can take your flooring to the next level. This inlay, often stained a different shade to create contrast and add texture, will frame your spaces with bold lines and rich colors. At Barbati Hardwood Flooring, we will create custom hardwood floor borders to give your flooring a distinct look. In this article, our pros explain how to get the most out of this stylish addition.
From refinishing and restoration to a fresh hardwood installation, our pros can handle all your flooring needs. To find out more about any of our services, contact us today at 484-354-8869.
What Is a Hardwood Floor Border?
A floor border is an inlay designed to give your flooring added depth and character. Typically, this inlay is made from a different wood species – such as maple – than the rest of your boards. As a result, when you sand, stain, or refinish your floors, the border will still be visible.
Keep in mind that darker stains will heighten this contrast, while lighter stains will result in a subtler look. While most homeowners choose to keep the borders simple, a skilled flooring expert can create intricate patterns using these hardwood border inlays.
If you're searching for high-quality custom hardwood floor borders, look no further than Barbati Hardwood Flooring. Since 1987, we have floored hundreds of homes, restaurants, and historic properties. Our pros will visit your homes, discuss your design goals, and create custom border inlays or accenting borders tailored to your exact tastes. Once our work is done, we guarantee you will be blown away by the results.
Besides creating custom border inlays, we also specialize in refinishing and restoring old hardwood boards. When scuffs, stains, and scratches take their toll on your flooring, our team can restore your hardwood floor to its former luster. If you want brand new flooring, we also offer expert installation for genuine and engineered hardwood products.
Contact Us Today for Stylish Hardwood Floor Borders
Elevate your hardwood floors with custom hardwood floor borders designed and crafted by the crew at Barbati Hardwood Flooring. Call 484-354-8869 today to speak to one of our flooring pros.