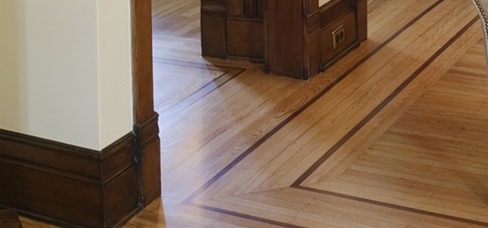 Beautiful hardwood floors can shine all by themselves, but floor inlays can lift every board to a new level of style and sophistication. From medallions to borders, there are countless ways to upgrade your hardwood flooring. At Barbati, our experts have extensive experience creating custom decorative elements for hardwood floors and can help you transform your rooms. In this article, we discuss the basics of hardwood floor inlay installation and how to incorporate this decorative technique into any space.
Besides flooring installation, we also provide services for restoration, patching, and refinishing. From upscale restaurants to historic homes, we have installed and repaired hardwood flooring in hundreds of properties. To get started, contact us today at 484-354-8869 to schedule a consultation.
What Is a Hardwood Floor Inlay?
Typically, inlays are hardwood pieces that slot into your flooring to add dimension, depth, and contrast to your rooms. These inlays are usually constructed from a different type of wood to your floors to help them stand out.
When you refinish and stain your floors, this decorative addition will be highlighted. Using lighter stains will result in a more subtle overall look, while darker stains can heighten contrast. Inlays can range from intricate geometric shapes or picturesque medallions to stripped-down, minimalist border lines.
But which type of inlays will work best in your spaces? The answer to this question will depend on your design goals, personal tastes, size of your rooms, and many other factors. Hence, why it's important to sit down with a knowledgeable contractor who knows how to get the most out of this decorative addition.
At Barbati, our team will visit your home, assess your spaces, discuss possible designs, and create inlays that will enhance every element of your hardwood flooring. We also offer refinishing and restoration services for damaged boards. Our team can remove of scratches, scuffs, and stains, and use modern techniques to restore your flooring to its former luster.
Beautify Your Flooring With Our Hardwood Floor Inlay Installation
At Barbati, we have the tools, knowledge, and experience to create and install stylish inlays that will instantly transform your flooring. Our goal is to give you beautiful flooring that's as durable as it is distinct and stylish. Contact us today at 484-354-8869 to find out more.