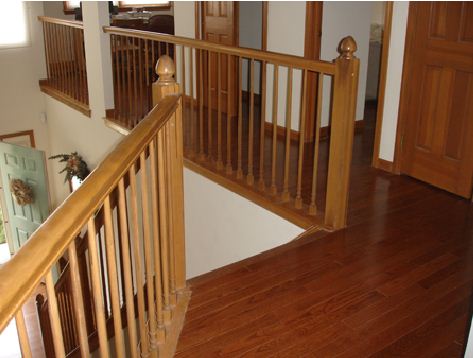 Your upstairs hallway is the central nervous system of your upper levels. As a result, it sees more foot traffic than any other of your rooms, which can take its toll on your hardwood flooring. But those scuffs, stains, and dents don't have to a be a permanent fixture; the crew at Barbati is on hand to refinish your hardwood upstairs hallway.
Since 1997, we've helped countless home- and businessowners restore their floors. With our tools, experience, and in-depth knowledge, we're equipped to handle all of your flooring needs. Contact us today at 484-354-8869 to get started.
Is It Safe to Refinish Upstairs Hallway?
Yes! Damage marks can quickly ruin your floors, leaving once beautiful hardwood flooring looking like a pockmarked battlefield of etched-in eyesores. While many homeowners grit their teeth and opt for a don't-look-down-approach, leaving your hardwood in this condition will devalue your home.
Refinishing is a quick process that can restore your boards – even those upstairs – to their former luster in the space of just a few days. Plus, after we sand your boards, we can stain them to match the flooring elsewhere in your house – whether it's mirroring the style of your hardwood staircase or the flooring in your living room.
Can I Refinish Hardwood Floors Myself?
Yes and no. While, in theory, you can refinish your floors, the results often pale in comparison to those achieved by an experienced crew. On paper, the steps seem simple, but mistakes during this process can cause irreparable damage to your flooring.
At Barbati, our crew has decades of experience refinishing and restoring hardwood floors. We will visit your home, assess the damage to your boards, and provide our recommendations on the best treatments to restore your flooring to its former luster. Besides refinishing, we can also install brand new flooring and can create custom border inlays and medallions to give your floors a distinct look.
Damaged Flooring? Call in the Refinishing Pros
Damaged flooring can ruin your rooms; rewind the clock with help from the talented team at Barbati. Once our work is done, your flooring will look good as new. Call 484-354-8869 today to speak to a member of our team.