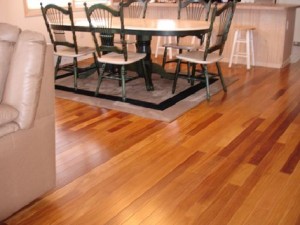 Are you ready to upgrade your home or business with a beautiful hardwood floor? The talented crew at Barbati will combine your vision with our experience to create a stunning wood floor that transforms the look of your indoor space. When searching for a reliable company for hardwood flooring installation, Yorklyn DE residents trust in our experienced team to deliver stunning results.
Our goal is to exceed your expectations by providing expert advice that will take your hardwood flooring project to the next level. We will treat your home as if it is our own, respecting your property and working with the highest standards of professionalism. Call us today at 484-354-8869 to learn more.
Here are a few of the greatest benefits of getting a hardwood floor installed:
1. A Beautiful and Distinctive Look
It goes without saying that hardwood floors add an elegant and sophisticated aesthetic to any room. With many hardwood floor materials, stains, and construction techniques to choose from, your wood floor can be customized to your personal tastes.
2. Easy to Maintain
Generally speaking, maintaining a hardwood floor only requires occasional sweeping, mopping, dusting, or vacuuming. With a professionally installed wood floor from Barbati, you can rest assured that your new floor will be designed to last through the years with minimal upkeep.
3. Adds Value to Your Home or Business
If you ever decide to sell your property, a hardwood floor will go a long way to attracting buyers. Not only will a beautiful wood floor help your property stand out from other listings, but it may also allow you to increase the asking price.
4. Improved Acoustics
This is one of the lesser-known benefits of hardwood flooring installation, but it can have a huge impact on your day-to-day enjoyment. Whether you're listening to music, talking to friends and family, or watching T.V., the acoustics are far clearer in rooms with a hardwood floor compared to rooms with other flooring materials.
Call Our Yorklyn DE Hardwood Floor Experts Today!
If you'd like to upgrade the look of your home or business with hardwood flooring installation, turn to the experts at Barbati. Call 484-354-8869 today to get started.