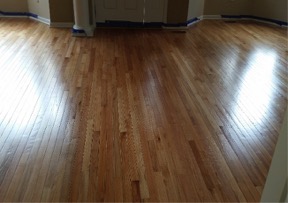 With quality materials and expert craftsmanship, Barbati is the preferred provider of hardwood flooring installation and refinishing in King of Prussia. Our knowledgeable crew can help you choose the perfect wood, stain, and design to create the distinctive look you desire.
More than 90 percent of our clients are referrals and repeat customers, which is a testament to our exceptional service quality. Call us today at 484-354-8869 to learn more.
3 FAQs about Hardwood Flooring Installation & Refinishing
A hardwood floor is an exciting upgrade for any home or business. If you have questions about the cost, materials, design options, or process of installing or refinishing a hardwood floor, contact us today to speak with a wood flooring specialist.
Here are the answers to three questions we are often asked by customers getting hardwood flooring installation or refinishing:
1. Can I See Photos of Your Recent Work?
At Barbati, we are proud of our craft and delighted to show prospective customers our portfolio. Click here to see images of our recent work.
2. How Many Hardwood Floors Has Barbati Installed?
Over the past 30 years, we have installed hundreds of wood floors in homes and upscale restaurants in King of Prussia and surrounding areas. We have experience installing, repairing, and refinishing floors in modern homes as well as in antique and historic homes. We can even help you find antique flooring materials that best match your existing wood floor.
3. Can You Fix Pet, Water, and Plant Stains?
Our team specializes in repairing and refinishing floors that have been damaged by pet, water, and plant stains; furniture legs; deep scratches; and heavy objects that dented or cracked the floor. In most cases, nobody can even tell a repair was made.
Hardwood Flooring Installation & Refinishing | King of Prussia
At Barbati, we understand that you want to enjoy your new hardwood floor as soon as possible. Our crew will arrive promptly, listen to your aesthetic goals, and create a plan to turn your dream indoor space into a reality. If you need wood flooring installation or refinishing in King of Prussia, call us today at 484-354-8869 to schedule a visit from one of our hardwood flooring specialists.