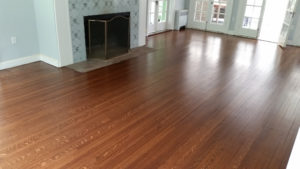 Whether it's the work of your enthusiastic pup or your energetic kids, your hardwood floors collect inevitable scratches, stains, and dents. While you can't prevent this damage, tearing up your boards and starting from square one isn't the right solution. At Barbati Hardwood Flooring, our hardwood floor contractors have the tools, experience, and knowledge to bring your boards back from the brink. When searching for a talented crew for hardwood floor refinishing, Ardmore PA homeowners trust Barbati to reinvigorate their indoor spaces.
Over the past 30 years, we have refinished, restored, and installed floors in hundreds of fine restaurants, modern homes, and historic properties. To find out more about what we can do for your old hardwood floors, call us today at 484-354-8869.
About Our Hardwood Floor Refinishing Services in Ardmore PA
Many contractors promise stunning results but fail to deliver on their bold claims. The result: You're left footing the bill of their lazy workmanship. At Barbati, we're proud to offer the most complete form of floor refinishing and restoration available in the area. Our talented team will go above and beyond your expectations to restore your floors to their original shine and sheen.
Besides advanced hardwood floor refinishing, we also offer restoration services for older floors in historical homes. Our pros will scour the country to find boards that match your existing floors. This will ensure that the end result is cohesive without compromising on the unique aesthetic of this timeless material.
If you would like to install a new hardwood floor in your home, you can trust Barbati to transform your indoor spaces. Our hardwood flooring products, including both pre-finished and unfinished varieties, are available in a near-infinite combination of wood types, colors, and stains. Struggling to settle on the right boards for your home? Our knowledgeable pros can provide recommendations on the best flooring for your needs, space, and budget.
Experts in Hardwood Floor Refinishing Ardmore PA – Barbati
Revitalize your space with professional hardwood floor refinishing by the pros at Barbati Hardwood Flooring. Call us today at 484-354-8869 to schedule a consultation.