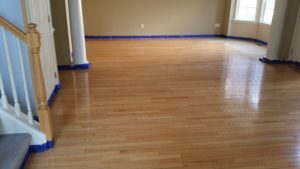 Engineered hardwood is a durable construction material built to withstand warping and expanding, but it is not immune to scratches, dents, or marks. If you're wondering, "Can you refinish engineered hardwood flooring?" you've come to the right place.
With help from the knowledgeable crew at Barbati, you can restore even the most damaged boards to their original luster. We have spent decades refinishing and restoring hardwood floors for businesses, homes, and historical properties. Our refinishing process is the most complete form of floor restoration in the industry. To get started, contact us today at 484-354-8869.
What Is Engineered Hardwood?
Engineered hardwood is a type of flooring made up of three layers including:
A thin top layer of genuine natural hardwood;
A thick middle layer of plywood designed to bolster the strength of the flooring; and
A bottom layer constructed using a sturdy wood species.
Although the middle layer helps prevent your floor from expanding, shifting, or warping over time, the top layer can still collect marks, stains, dents, and scratches. Due to the thinness of this layer, repairing engineered hardwood can be a difficult process as there are just mere inches between success and failure.
At Barbati Hardwood Flooring, our refinishing experts understand that restoring hardwood floors requires a delicate touch and an eye for detail. With more than 30 years of experience working with both hardwood and engineered hardwood products, we have the expertise necessary to reinvigorate your old flooring. If you think your engineered hardwood floor could benefit from refinishing, repair, or patching, just ask our pros for expert advice. Once our restoration work is done, we can also give your space unique flair by adding accenting borders, medallions, or custom border inlays.
Contact Us Today for Engineered Hardwood Flooring
When homeowners need answers to questions like, "Can you refinish engineered hardwood flooring?" they know the crew at Barbati has the knowledge to provide the answers. You won't find a more committed or thorough team of flooring contractors. To learn more about our flooring services, call us today at 484-354-8869 or fill out our Contact Form to speak to one of our specialists.