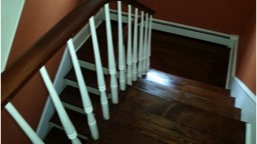 Whether you're renovating your old home or building a new one from the ground up, a high-quality hardwood floor will lift your space to another level of style, elegance and beauty. Are you ready to take the next step? The reliable experts at Barbati have over 30 years of experience installing, repairing and refinishing hardwood floors. When searching for a company for hardwood flooring installation, Wilmington DE residents always trust us to deliver eye-catching and enduring results.
Our work doesn't stop once we've installed the last board; we can even construct beautiful custom border inlays and customized medallions to create a look that is unique to your home or business. Call us today at 484-354-8869 to learn more.
3 Questions You Should Ask Before Hiring a Company for Hardwood Flooring Installation
You've seen hundreds of advertisements for contractors offering hardwood floor installation and refinishing, but the truth is that many of them can't deliver on their bold promises. The hardwood flooring industry isn't regulated, which complicates choosing the right crew for your new project. Before pulling the trigger, make sure you ask every company these three questions:
1. How Long Have You Been Installing Hardwood Floors in Wilmington DE?
Our crew here at Barbati has spent the last three decades installing hardwood floors. That time was packed with important lessons that have helped our pros come to grips with the near-infinite variations and combinations of hardwood flooring materials, stains, colors, and construction techniques available.
We will help you choose hardwood flooring that will stand the test of time and retain its distinctive beauty for generations to come.
2. Do You Have a Portfolio?
Professional wood flooring contractors will document their completed projects to showcase as part of a portfolio. Do not hire a contractor who has not worked on projects like yours. Our team at Barbati has floored hundreds of homes and upscale restaurants. Take a look at our extensive portfolio here.
3. What Materials Do You Offer?
A custom design requires access to a wide variety of hardwood flooring materials. Many contractors will only stock the cheapest timber available. At Barbati, we aim to tailor our hardwood floors to match your vision.
Get Your New Hardwood Floor in Wilmington DE Today!
If you have any questions about wood floor repairs, refinishing or a new installation, contact our team at Barbati now. Call 484-354-8869 to chat about your next project with our experts.