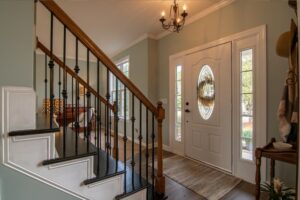 When people enter your house, the stairs are one of the first things they tend to notice. Family members, friends, and others can form an immediate and long-lasting impression of your home based on the condition and appearance of the stairs.
If you're planning to sell your home, the stairs can influence people's decisions on whether to buy the property and how much to pay for it. If your stairs are currently in a state of disrepair or just looking unattractive, you can transform them with wood stairs installation.
Benefits of Installing Wood Stairs in Your Home
When it comes to hardwood, you have plenty of species to choose from. You can find one that will complement your home's design and décor and be confident that your wood stairs will be beautiful and will impress guests.
Wood is durable and lasts longer than other materials. Since it's less likely to get dented or scratched, wood is a particularly good choice for stairs if you have kids or pets.
Wood is also easy to maintain. You can sweep the steps or vacuum the stair treads and wipe the wooden areas with wood cleaner to keep them looking clean and shiny.
Homebuyers tend to gravitate toward houses that feature hardwood. Wooden floors are common and popular, but wood stairs can also catch the eyes of prospective buyers and raise your home's resale value.
Get a Quote for Wood Stairs Installation
You don't have to have all the floors in your house redone to transform its appearance. Many homeowners have discovered that wood stairs installation can work wonders.
The team at Barbati Hardwood Flooring can install wood stairs that will dramatically improve your home's appearance and increase its value. If your house currently has wood stairs, but you want something a little different, we can install wood overlays to change the species.
Since 1987, Barbati Hardwood Flooring has been beautifying homes and businesses across Pennsylvania by installing and refinishing hardwood flooring and wood stairs. If you're interested in having wood stairs installed at your home, you have questions about the process, or you would like to get an estimate, contact Barbati Hardwood flooring today at (484)354-8869.