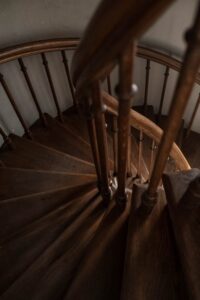 Damaged steps are a safety hazard, as well as an eyesore. If your house has a staircase with one or more steps that have been worn out from years of use, a contractor can cut hardwood planks and use them to cover the existing steps. That can make the stairs safer and improve your home's aesthetics. If you're wondering how much to put wood on stairs, here are some important things to know.
Several Factors Can Influence the Cost of Wood Stairs
The cost to put wood on stairs will depend on a number of variables, including the number of steps, the species of wood you select, and the thickness of the boards. Oak is the most popular choice because of its durability, but you might prefer a different species. You can choose prefinished wood, or the contractor can sand and refinish the planks when they're installed. If the stairs currently have carpet that needs to be removed, that will add to the total cost of the project. Expect to pay a minimum of $1,000 to have your stairs covered with wood planks.
Trust the Team at Barbati Hardwood Flooring
Covering your existing stairs with wood is a job that you should entrust to professionals. You might be able to find some how-to videos online, but this really isn't the type of project that you should DIY. Even a small mistake can make the stairs unsafe. That can lead to serious injuries, and possibly a lawsuit if a visitor gets hurt.
If you're concerned about unsafe stairs, or if you want to improve the appearance of your staircase, contact Barbati Hardwood Flooring. Our team can replace the steps with attractive wood treads that will make them safer for your family and for anyone who may visit your home.
One of the most important questions homeowners have is, how much to put wood on stairs? Since so many variables can affect the answer, your best bet is to arrange to have a member of our team come to your house, inspect the stairs, take measurements, discuss your options, and give you an estimate. Contact us today at (484)354-8869 to schedule an appointment.