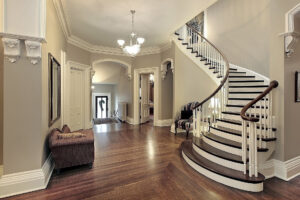 Hardwood isn't just used for flooring. Many homeowners don't realize that they can install stairs made of hardwood. If you're interested in using wood on a staircase in your house, trust the experienced professionals at Barbati Hardwood Flooring for hardwood stairs installation near me.
Reasons to Use Hardwood on Your Stairs
Wood is a beautiful natural material that can give your home a more elegant appearance. If you install hardwood stairs, they will be a focal point that will immediately catch the attention of guests.
Your stairs see foot traffic on a daily basis, often while people are wearing shoes or boots. Your pets also walk up and down the stairs. Wood is a durable and long-lasting material, which is why it's often chosen for flooring. That also makes it a good choice for stairs.
If your wood stairs get damaged, you will be able to have them refinished to restore their appearance. If you decide to switch up your home's décor, it will be easy to transform your wood stairs with a coat of paint.
Hardwood stairs are easy to clean. Using a vacuum on carpeted stairs can be a hassle, but you'll be able to easily clean wood stairs with a broom or dust mop. It will also be much easier to clean up spills or mud on hardwood stairs than it is to clean up a mess on carpeted stairs.
Hardwood floors are popular among homebuyers. Stairs made with hardwood can also appeal to buyers. If you decide to sell your house in the future, you may recoup a large percentage of the amount you invested in wood stairs.
Get a Quote for Hardwood Stair Installation
You should be sure that the company you choose for hardwood stairs installation near me is up to the task. The team at Barbati Hardwood Flooring can install beautiful and durable wood stairs in your house. We have been serving Pennsylvania homeowners since 1987. We can discuss the benefits of hardwood stairs and help you choose the best species and finish for your home. Contact us today at (484)354-8869 to learn more about the installation process and to request an estimate.