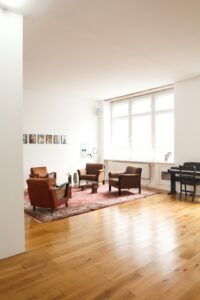 Damaged wood flooring can detract from your home's charm. If you're interested in selling your house, hardwood flooring that's scratched and discolored can be an instant turnoff for potential buyers. An expert wood floor restoration company can dramatically improve the appearance of your hardwood flooring so you can enjoy having family and friends over or get a good price when you sell your home.
What Is Hardwood Floor Restoration?
In most cases, damaged hardwood flooring can be refinished. Contractors sand the floor to get rid of the damaged top layer, then stain and finish a layer of fresh wood.
For floors with severe damage, such as dents, deep gouges, and cracked planks, restoration is necessary. If your floor is in particularly bad condition, we might have to remove and replace some boards. The wood floor restoration process will take longer and cost more than refinishing, but it will be worth it when you marvel at your revitalized wood flooring.
How Can You Find a Qualified Wood Floor Restoration Company in Pennsylvania?
Many businesses offer hardwood floor refinishing and restoration services, but you have to choose a company carefully. Those types of projects require a significant amount of training and experience. Workers who don't have the appropriate skills might make mistakes and cause additional damage, and companies that don't hold themselves to high standards might cut corners and leave you with lackluster results.
Barbati Hardwood Flooring has earned a reputation for consistently providing results that meet or exceed our customers' expectations. We have been serving homeowners and businesses across Pennsylvania since 1987, and more than 90% of our current clientele are repeat customers and referrals.
How Much Does Hardwood Floor Restoration Cost?
The answer to that question will depend on the size of the area that needs to be restored and the current condition of the flooring. If planks have to be replaced, that will add to the total cost of the project.
A member of the team at Barbati Hardwood Flooring can visit your home at a time that's convenient for you, conduct an inspection, figure out exactly what needs to be done, and give you a detailed written estimate. Contact us today at (484)354-8869.