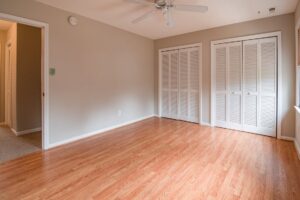 Hardwood flooring with scratches, dents, gouges, split planks, and uneven sections can give anyone who visits your home a negative first impression. A damaged floor can also be a safety hazard. Contractors can restore your hardwood floors to eliminate those problems and return them to their beautiful original condition.
If you're wondering, how much does it cost to restore hardwood floors, there isn't a simple answer. Restoration can cost thousands of dollars, but the price for your project will depend on several factors that are specific to your home.
What Determines the Cost of Hardwood Floor Restoration?
Before you can get an estimate, a contractor will have to inspect your hardwood floors to understand their condition and figure out what has to be done to restore them. Floors that have sections with water damage, cracked or split planks, and other serious problems will require more work than floors that are in good overall condition but just have minor cosmetic issues.
The species of wood is another important factor. Some types of wood flooring are easier for contractors to work with than others. If there are damaged sections that have to be replaced, the wood species will influence the cost of new planks.
The size of the area that you want to have restored will have a significant impact on the cost of the project. The price tag for hardwood floor restoration includes both materials and labor, but labor makes up most of the total. Restoring a large area will cost more than restoring a smaller one.
The cost to stain and finish a hardwood floor can vary significantly depending on the products you choose. That will play a role in determining the total cost of restoration.
Get a Quote for Hardwood Floor Restoration
If you're thinking about restoring the hardwood flooring in your home, you will want to know how much does it cost to restore hardwood floors before you hire a contractor. A member of the team at Barbati Hardwood Flooring can visit your Pennsylvania home, assess the condition of your floors, figure out how much work will be required, discuss your options, and give you a written estimate. Call us today at (484)354-8869.