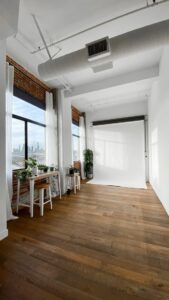 If your hardwood flooring is damaged, you most likely won't have to replace it. Refinishing can take care of many forms of damage, but sometimes a more intensive restoration process is required. Barbati Hardwood Flooring can provide floor restoration services that will make your damaged flooring look like new.
What's the Difference between Hardwood Floor Refinishing and Restoration?
Both processes require sanding to create a smooth surface and the application of a new layer of finish. The difference is in how involved the processes are and when they're used. Restoration is a more complex and time-consuming process than refinishing.
The level of damage will determine whether your hardwood floors can be refinished or whether they will need to be restored. Refinishing is appropriate when the layer of finish has been compromised, but the underlying wood flooring is still intact. You may be able to have your hardwood floors refinished if the surface is scratched or scuffed, or if it has relatively minor damage from daily foot traffic.
Hardwood flooring restoration may be necessary if the floors have deeper damage that affects the wood itself. For example, if floorboards are cracked or warped, if they have deep gouges caused by pets' nails or furniture scraping on the floor, if the flooring has suffered water damage, or if a section of flooring is so damaged that the finish is completely gone in some areas, restoration may be appropriate.
Get an Estimate for Hardwood Floor Restoration Services
If the hardwood flooring in your home is damaged, the team at Barbati Hardwood Flooring can help. We can inspect the condition of the floors and figure out if they can be refinished or if they need to be restored. If restoration is necessary, we can revitalize your floors and return them to pristine condition.
Older homes often have hardwood flooring that is of better quality than the wood flooring sold today. Restoring wood flooring in a historic house is generally a better option than replacing it. Barbati Hardwood Flooring is the most experienced historical company and has been experienced with historical work since 1987. If you would like to get an estimate for hardwood floor restoration, or if you would like to schedule an appointment to have your floors inspected, contact us today at (484) 354-8869.