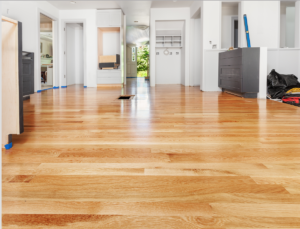 Sanding a hardwood floor can restore its appearance. It can also protect the floor from further damage and increase a home's resale value. If the hardwood flooring in your home has suffered from years of wear and tear, look for floor sanding companies near me to have it restored to its former glory.
Sanding Can Improve a Hardwood Floor's Appearance
All hardwood floors can become damaged over time, no matter what species of wood was used to make them. The sanding process can remove the damaged top layer to reveal a new layer of fresh, undamaged wood underneath and immediately improve the appearance of an entire room.
Restoring a Hardwood Floor Can Prevent Injuries
Sanding a hardwood floor can make it safer. The process evens out the surface of the floor and makes it level, which can reduce the chance of someone tripping and falling.
Sanding a hardwood floor can repair damage, such as split boards. It can close gaps between planks, tighten nails that have come loose, and reduce the chance that the floor will crack and splinter. That can make the floor safer for family members and pets to walk on.
Sanding Can Keep the Floor Clean and Keep Insects Away
A hardwood floor that has been sanded and refinished is less likely to accumulate dirt and dust than one that is damaged. That can mean that you will be able to spend less time cleaning.
Sanding a hardwood floor can eliminate small holes and crevices. That can make the floor less appealing to insects, such as termites.
Restoring Hardwood Flooring Can Help You Sell Your Home
Many people who are interested in buying a house prefer homes with hardwood flooring. If you plan to sell your home in the near future, sanding the floor and restoring it to its former beauty can help your house stand out from the competition so you can attract a buyer and get a good price.
Request an Estimate for Hardwood Floor Restoration
Barbati Hardwood Flooring can sand your wood flooring and quickly improve your home's appearance. If you plan to put your house on the market, recently restored hardwood flooring can help you attract a buyer. Contact floor sanding companies near me to get a quote. Call Barbati Hardwood Flooring at (484)354-8869.