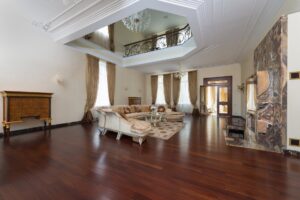 Hardwood floors that are scratched, dented, and discolored are an eyesore, while damaged boards and deep gouges are tripping hazards. Refinishing can restore your hardwood floors and make them look like new. You might be wondering, what does it cost to refinish hardwood floors?
Factors That Can Influence the Cost of Hardwood Floor Refinishing
Several factors specific to your home and your floors will affect the price of the project. The size of the area is one of the most obvious. Refinishing floors in multiple rooms will cost more than refinishing the flooring in just one room, although the price per square foot might be lower with a larger project.
The type of wood flooring you have will also influence the cost of refinishing. Numerous species are used for hardwood flooring, and they differ in terms of how hard they are and how difficult they are to work with. The wood species will affect the amount of time required for refinishing, which will in turn influence your total charge for labor.
The current condition of your hardwood floors is another important factor that will affect the price tag. Floors with minor damage might just require sanding and a fresh coat of finish, while floors with deep gouges will need more work. If some boards are damaged beyond repair, they will have to be replaced. That will add to the total cost of the refinishing project.
Location plays a role in the cost of hardwood floor refinishing, as well as other types of services. Costs for materials and labor vary from place to place, which is why you might pay more or less than your friend or family member who lives in a different state.
Find out What Does It Cost to Refinish Hardwood Floors in Your Home
Barbati Hardwood Flooring generally charges $3-$4 per square foot for refinishing services. Since a wide range of factors can affect the amount of work required, a contractor will have to inspect your hardwood floors and measure the area to be refinished in order to give you a reliable quote.
A member of our team can come to your house at a time that's convenient for you, figure out what needs to be done, and give you a written estimate. Call us today at (484)354-8869.