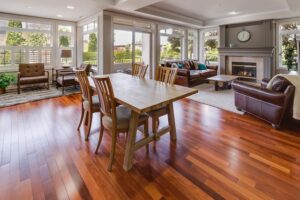 Refinishing the hardwood floors in your home can remove scratched, dented, and discolored wood and make your flooring look as beautiful as it did when it was installed. You can trust the professionals at Barbati Hardwood Flooring for floor refinishing Philadelphia.
Why Should You Have Your Hardwood Floors Refinished?
Refinishing wood floors is quicker and more affordable than installing new flooring. Even hardwood flooring that's in bad shape can be revitalized with refinishing, provided that the wood is thick enough.
How Are Hardwood Floors Refinished?
Workers begin by sanding the surface to remove the damaged wood and reveal a fresh, unblemished layer of wood underneath. The surface is sanded several times to create a smooth surface, then stained and sealed.
In some cases, a section of hardwood flooring is so damaged that it can't be refinished. For instance, boards might be rotten or cracked and need to be replaced. Barbati Hardwood Flooring can find boards of the same species that so closely match the rest of the floor that it will be virtually impossible to tell that the new planks weren't part of the original flooring.
Can You Refinish Hardwood Floors Yourself?
It's possible for homeowners to refinish their hardwood floors, but it's not advisable. Sanders are available for rent, but people often find that operating them is harder than they expect.
Sanding a hardwood floor requires care and precision. If you don't have training and experience and you make a mistake, you can create scratches or deep gouges in the floor.
You might be unable to repair the damage yourself and have to hire a professional to refinish the flooring. Save yourself time, money, and stress by enlisting the help of wood flooring experts from the start.
Get a Quote for Hardwood Floor Refinishing Philadelphia
Barbati Hardwood Flooring has served customers across Pennsylvania since 1987. Our team can refinish and transform your damaged hardwood flooring.
To give you an accurate estimate, we'll first have to see your floors' current condition, figure out if any planks need to be replaced, and measure the area to be refinished. Call us today at (484)354-8869 to learn more.