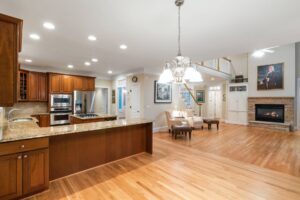 Refinishing can transform scratched and stained hardwood floors and make them look as beautiful as they did on the day they were installed. Before you hire a company, you need to know what to expect and make sure that you're choosing a business that's qualified to handle the job. Here are some important questions to ask hardwood floor refinisher so you can be sure that you're selecting the right company.
What Does the Hardwood Floor Refinishing Process Entail?
First, all the furniture will have to be removed from the room so it won't be in the way and so it won't accidentally get damaged during the refinishing process. We will use sanders to remove the top layer of wood. That will eliminate any scratches or gouges that may be there and leave behind a fresh layer of wood. After we have smoothed the surface, we will stain it in the color of your choice and add a protective finish. If we discover that any boards need to be replaced, we will install new ones so your floor will look pristine when the project is finished.
How Long Has Your Company Been in Business?
Working with hardwood flooring is a job that requires specialized training and experience. You want to select a business that has been around for a while and has a successful track record. Barbati Hardwood Flooring has been serving customers across Pennsylvania since 1987, and the bulk of our business comes from repeat customers and referrals.
Can You Restore Hardwood Flooring in a Historic Home?
At Barbati Hardwood Flooring, we have extensive experience working in historic buildings across the state. We can refinish antique flooring, and we can even acquire antique wood if sections of your floors are severely damaged and need to be replaced.
How Much Does Hardwood Floor Refinishing Cost?
Every project is different. The cost to refinish hardwood flooring depends on the size of the area, whether any boards need to be replaced, and other factors. A member of our team can inspect your hardwood floors and give you an estimate. If you have any other questions to ask hardwood floor refinisher, we can answer them. Call Barbati Hardwood Flooring today at (484)354-8869.