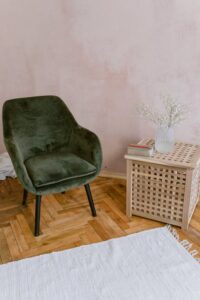 Refinishing a hardwood floor can remove dents and scratches and create a smooth, even surface. Refinishing can also be the best solution for wood floors with sections that are discolored, but in otherwise good condition. Homeowners often wonder how many times can hardwood floors be refinished. The answer depends on the type of wood and its thickness.
A Wood Floor's Type, Condition, and Age Are Important
The refinishing process removes the top layer from a hardwood floor. The thickness of the wood will determine how many times a floor can be refinished before it needs to be replaced. Solid wood flooring is thicker than engineered flooring, so solid wood can be refinished more times than engineered wood.
How much is removed by sanding is another important factor. That depends on the coarseness of the sandpaper that's used. Flooring professionals see how seriously damaged a floor is and figure out how much needs to be removed to smooth it out.
If you bought a house that already had wood flooring, it's possible that it was refinished one or more times before you moved in. You might be able to refinish the floors many times, or you might only be able to refinish them once or twice before they have to be replaced. If the floors are old or had severe damage in the past, refinishing them again might cause so much damage that replacing the floors is a better option.
Get a Quote for Hardwood Floor Refinishing
If your hardwood floors are damaged, contact the professionals at Barbati Hardwood Flooring. We can measure the wood to find out how thick it is right now, see how deep any scratches and gouges are, and figure out how much wood has to be sanded off. We can also estimate how many times can hardwood floors be refinished in your home so that you'll know approximately how long you can expect your floors to last.
Barbati Hardwood Flooring been serving homeowners across Pennsylvania since 1987. We have earned the confidence of our customers by providing quality work and excellent service. That's why over 90% of our business comes from repeat customers and referrals. Contact us today at (484)354-8869 to schedule an appointment to have your floors inspected and to get a quote for refinishing.