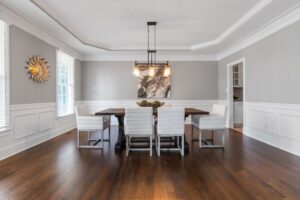 When wood floors are damaged, refinishing them is much simpler and less expensive than replacing them. Still, the process of refinishing wood floors can be time consuming. If your floors are damaged, you might be wondering how long does refinishing hardwood floors take?
Timeline Depends on Several Factors
The process of refinishing hardwood floors will probably take a few days. It might take more or less time, depending on your specific circumstances.
The size of the area that you plan to have refinished is obviously important. It will take workers much longer to refinish the floors in several rooms than it will take them to refinish the floor in a single room.
The current condition of your floors will also affect the timeframe. If they're in decent shape and just have some scratches and minor dents, the sanding process should be straightforward.
If the floors have deep gouges, workers will have to sand them more to remove the damaged layer. If some boards are so damaged that they can't be fixed, contractors will have to replace them with new ones. Those types of issues will make the project take longer to complete.
After contractors have sanded your hardwood floors, they'll apply a new finish. They might have to apply two or more coats. Each coat will have to dry thoroughly before the next one can be applied. Different finishes take different amounts of time to dry.
The weather can also impact the timeline. If contractors are at your house when it's rainy or humid, those conditions will make it take longer for the finish to dry.
Make a Plan to Get Your Hardwood Floors Refinished
While workers are refinishing your hardwood floors, you'll have to keep members of your family (including pets) out of the area. If you're only having the floor refinished in one room, you might be able to adjust your routine and make things work. If you're going to have several rooms refinished, it might be better to stay at a hotel or with family or friends.
Since 1987, Pennsylvania homeowners have trusted Barbati Hardwood Flooring for installation and refinishing. How long does hardwood floor refinishing take depends on several factors. A member of our team can inspect your floors, discuss the timeline, and give you an estimate. Call us today at (484)354-8869.