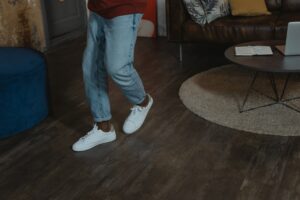 Even though hardwood flooring is long lasting, it can get scratched and scuffed through daily wear and tear. It may have areas where the surface is uneven, and possibly even one or more deep gouges.
Those are more than cosmetic issues; an uneven floor can also be a safety hazard. Hardwood floor resurfacing can restore the appearance of your flooring and smooth out the surface to prevent accidents. If you're looking for hardwood resurfacing near me, you can trust the team at Barbati Hardwood Flooring.
What Is Hardwood Floor Resurfacing?
Refinishing hardwood flooring involves sanding the surface to smooth away any rough and uneven surfaces, then applying a fresh coating of stain. Resurfacing goes beyond that. If the floor has boards that are old and seriously damaged, they are removed and replaced. Planks that are loose are secured with new nails. Once all of that has been done, a new coating is applied on top.
Should You Have Your Floor Resurfaced?
If your home's hardwood flooring has suffered water damage, it may have one or more boards, or even large areas, where the flooring is warped. In that case, resurfacing can restore your hardwood floor's appearance and prevent accidents. Resurfacing may also be the best solution if some floorboards are missing nails or if some planks are damaged or missing.
Why Should You Leave Hardwood Floor Resurfacing to Professionals?
Homeowners often decide to tackle hardwood flooring projects on their own to save money, then regret their decisions. Repairing hardwood flooring is much more complicated than it may seem on TV or in online videos.
The job requires specialized equipment that can be difficult to operate without appropriate training. It's easy to make mistakes. Homeowners often cause more damage when they try to do things themselves, then have to hire a hardwood flooring professional to fix those mistakes, as well as the original problem.
Get an Estimate for Hardwood Resurfacing Near Me
Barbati Hardwood Flooring has been helping homeowners across Pennsylvania beautify their homes since 1987. If your hardwood flooring is damaged and looks unattractive, we can inspect it and tell you if hardwood resurfacing is the right solution. If so, we can give you a quote for our services. Call us today at (484) 354-8869.