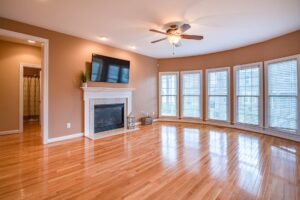 Hardwood flooring can make any room in a house look more attractive. That's why so many homeowners have installed wood floors in their houses. If you want to make your home look even more stunning and truly set it apart from others in your neighborhood, you can install wood floor borders.
Reasons to Install Hardwood Floor Borders in Your Home
A border can enclose a room like a picture frame and separate it from another room or section of your house. If you have a room that's used for entertaining, for instance, a border encircling the space can create a clear division between that room and a hallway or another room.
A wood floor border can make a room look more visually appealing. It can give you an opportunity to show off your style, whether it's classic or modern. No matter what type of furniture you have, a border can complement it and enhance the room's appearance.
You can choose to install a wood floor border that's stained a different color than the rest of the floor. You can even have a border made with a different species of wood than the one used in the rest of the room.
A wood floor border can provide a good return on investment. Since borders are relatively uncommon, they catch people's attention as soon as they enter a room. If you decide to sell your house in the future, a wood floor border can appeal to buyers, especially if most other houses that are on the market in your area don't have them.
Get a Quote for Wood Floor Border Installation
Installing wood floor borders is a job that you should entrust to skilled professionals. If it isn't done right, it can make the room look worse instead of better. Even a minor error can result in a border that isn't properly aligned.
Barbati Hardwood Flooring has been installing wood floors in Pennsylvania homes and businesses since 1987. We have a team of well-trained installers who can create the beautiful wood floor border that you envision. Call us today at (484)354-8869 to get an estimate.