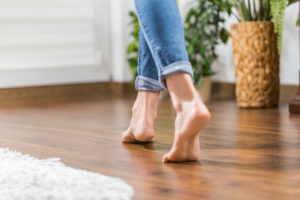 If you're thinking about installing new hardwood flooring in your home, you have several options, including glue down and floating flooring. Each has advantages. When you learn the answer to "what is glue down flooring?", you may decide that it's the best choice for your home, or you may find that floating flooring is better suited to your needs.
What is Glue Down Flooring, and How Is It Installed?
With glue down flooring, boards are glued in place to keep them from shifting. A vapor barrier isn't necessary since the glue that is used in the installation process acts as a barrier. Glue down flooring can be installed in areas that aren't level. That makes it a good option for homes where other types of flooring won't work due to an uneven floor.
Since glue down hardwood flooring is difficult to install, it may cost you more than some other types of flooring. It may also be challenging to remove glue down flooring if you decide to replace it in the future.
What Is Floating Flooring?
Floating flooring has tongues and grooves so that individual pieces can be snapped together to create one smooth surface. The weight of the boards and friction hold the floor in place.
It's possible to install floating flooring over many types of underlayments. In some cases, floating flooring can be laid on top of an existing hardwood floor instead of removing the old floor. That can save money on installation.
Floating flooring essentially functions the same way as hardwood that's attached to a subfloor, but floating flooring is easier to install since fasteners aren't necessary. It typically costs less than glue down flooring.
Floating hardwood flooring is durable and long lasting. The way that it is installed allows the planks to expand and contract as temperature and humidity levels change. If you choose floating flooring with thick planks, it will be possible to refinish the floor several times if it starts to wear out.
Get an Estimate for New Hardwood Flooring
You have several options when it comes to hardwood flooring for your house. Glue down and floating flooring are two of the most popular. If you have questions about what is glue down flooring or aren't sure which would be a better option for your home, call Barbati Hardwood Flooring at (484) 354-8869 to learn more or to get a quote.