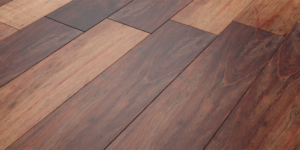 New hardwood flooring can dramatically improve your home's appearance and increase its value, but only if quality materials are used and installed correctly. Wood flooring that is of poor quality or that is installed or finished improperly can be an eyesore and can decrease your house's value. If you're looking for the best hardwood installers, trust the team at Barbati Hardwood Flooring.
Types of Hardwood Flooring We Can Install
We have experience working with several types of flooring, including unfinished, prefinished, and engineered wood. We can install nail-down, staple-down, glue-down, and floating flooring. If you want to go beyond traditional hardwood flooring and would like to give your home a more distinctive look, the team at Barbati can work with you to design and create a border, medallion, or custom inlay.
We don't just install hardwood flooring. Our team can install wood stairs or use overlays to change the species of wood on your home's staircase.
You don't have to purchase wood flooring from Barbati. If you would prefer to buy hardwood flooring elsewhere and have our team install it, that's fine, too. We would be happy to give you a quote for installation alone.
Choose the Best Hardwood Installers for Your Home
Installing hardwood flooring is a significant financial investment. You want to choose contractors who have the knowledge and experience to do the job right so you will be pleased with the results and will be able to enjoy your new flooring for years to come. You also want to know that the money you spend on new hardwood flooring will add to your home's value.
Barbati Hardwood Flooring has been serving homeowners across Pennsylvania since 1987. By consistently providing excellent results and responsive customer service, we have built a positive reputation in the community. The vast majority of our business now comes from repeat customers and referrals.
If you're interested in new hardwood flooring for your home, you probably have lots of questions about the types of flooring available, the installation process, and the cost. Call Barbati at (484)354-8869 to discuss these and other issues with a member of our staff.