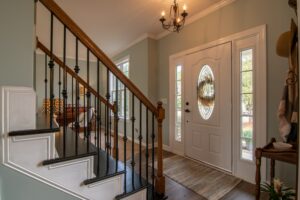 Replacing stairs with hardwood can make cleaning easier and make your home more attractive. If you're thinking about installing hardwood on stairs, that's not a project you should attempt yourself. Installing wood flooring is challenging and requires specialized training and tools. If it isn't done correctly, it can look unattractive and may even create a safety hazard.
Reasons to Replace Carpeted Stairs with Hardwood
Carpeted stairs can muffle sound and reduce the risk of slip and fall accidents, but they have drawbacks. Carpet can trap dirt, dust, and other allergens, and it can be difficult to vacuum steps. If something gets spilled on carpet, it can be tough to remove stains. Mold can also be an issue if carpet doesn't dry out quickly.
Wood stairs are much easier to keep clean. They can be swept and mopped periodically and won't trap allergens the way carpet can. That means you will be able to spend less time cleaning and enjoy the health benefits of better indoor air quality.
Why You Should Hire a Professional to Replace Stairs with Hardwood
Homeowners who want to save money frequently decide to tackle home improvement projects themselves. Sometimes that's a good idea, and sometimes it isn't.
Installing hardwood flooring on stairs is the type of job that's best left to professionals. Getting boards laid out correctly and secured properly is not as easy as it may seem. Also, if you choose unfinished wood flooring, it will need to be sanded and stained. Those projects are difficult and have a lot of room for error.
If you make a mistake when installing wood flooring, you may wind up with stairs that look unattractive and that may even be unsafe. You may then have to hire a contractor to correct your error. In the end, you may find that you would have been better off hiring a professional in the first place.
Learn More about Replacing Stairs with Hardwood
If you're thinking about installing hardwood flooring on stairs in your Pennsylvania home but not sure if it's the best option, call Barbati Hardwood Flooring at (484) 354-8869. We can answer any questions you may have, discuss different wood species and types of stains, and give you a quote.