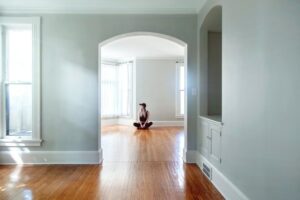 When homeowners are planning to have new hardwood flooring installed, one of the most common questions they ask is, do you have to remove furniture to install hardwood floors? The room should be cleared out so the contractors have plenty of room to work and so your furniture doesn't get damaged or dirty.
Reasons to Remove Furniture
Installing hardwood flooring is a complex process. Contractors first have to remove the existing wood, carpet, or other flooring material. They then have to lay down new hardwood planks, sand the floor, and apply a finish. All of those steps can be messy. If dust or stain gets on your furniture, it can cause damage.
Even if your furniture is covered with plastic, it can get in the contractors' way. Instead of leaving furniture in the room and forcing the contractors to work around it or keep moving it around, it's better to simply transfer all the furniture to a different location. That can make the process smoother for the contractors, allow them to finish faster, and let you begin to enjoy your new hardwood floors sooner.
What to Do with Your Furniture
You should move your furniture to another area where it will be out of the way and won't get damaged or dirty. In some cases, it may make sense to simply move the furniture to another room. It will depend on the scope of the project and your home's layout.
If you're having new hardwood flooring laid in several rooms, you may not have enough space to keep all of that furniture in your house, or you may prefer to move it somewhere else so it won't interfere with your family's daily activities. In that case, you can move the furniture to your garage or shed or rent a storage pod.
Get a Quote for Hardwood Floor Installation
Now that you know do you have to remove furniture to install hardwood floors, you can begin to plan your project. Barbati Hardwood Flooring has been serving Pennsylvania homeowners and providing impressive results since 1987. Call us today at (484)354-8869 to get an estimate for hardwood flooring installation.