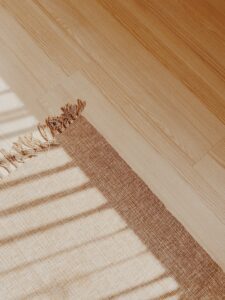 Traditionally, hardwood flooring was installed in a house, then sanded and stained on site. While that technique is still used in many cases, prefinished hardwood flooring has become a popular alternative. Pennsylvania homeowners trust Barbati Hardwood Flooring for prefinished wood floor installation.
Reasons to Choose Prefinished Wood Flooring
Wood that is prefinished is sanded and stained in a factory, rather than in a house at the time of installation. That makes it possible to apply stain evenly to each board in highly regulated conditions and greatly reduces the occurrence of imperfections.
Prefinished wood flooring is much less messy and less disruptive to install than flooring that gets finished on site. Sanding wood flooring can produce large amounts of dust that can make breathing difficult. Dust can spread throughout a house if it isn't carefully controlled and vacuumed up. In addition, stains used on wood flooring can release toxic fumes into the air.
Since prefinished hardwood flooring undergoes those steps in a factory, you won't have to worry about dust and fumes in your house. Another benefit of prefinished flooring is that you won't have to wait for the stain to dry. You'll be able to begin enjoying your new hardwood floors right away. Prefinished hardwood flooring will also save you money when it comes to installation costs since key steps are performed ahead of time in a factory.
Get an Estimate for Prefinished Wood Floor Installation
If you're thinking about installing new hardwood flooring in your Pennsylvania home, you have a number of options. If you'd like to have beautiful flooring installed quickly and minimize the mess in your house and the disruption to your family, prefinished wood flooring is an excellent choice.
Barbati Hardwood Flooring has installed wood flooring in homes and businesses across Pennsylvania. Our team can lay prefinished hardwood flooring that your family will be able to enjoy immediately and that will last for years.
If you're not sure which species or stain to choose, we can help you decide. Contact us today at (484) 354-8869 to learn more about your options and to request a quote for prefinished wood floor installation.