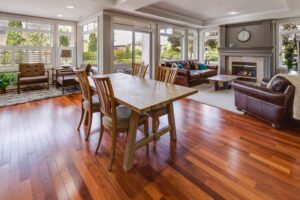 Hardwood flooring can immediately transform the appearance and character of your home. Many companies offer wood flooring installation, but they don't all provide work that meets high standards.
Installing hardwood flooring is a significant financial investment, so you want to choose a business that will do it right. The local wood floor installers at Barbati Hardwood Flooring have been serving customers across Pennsylvania for more than 30 years.
Types of Wood Flooring We Can Install
You have several options when it comes to hardwood flooring. You can choose to install unfinished wood flooring and have it finished on site, or you may prefer to go with prefinished or engineered flooring. The team at Barbati can install any of them.
We also have experience working with nail down, staple, glue down, and floating flooring. If you would like to go beyond traditional hardwood flooring and give your home a unique design, we can install a border, inlay, or medallion.
Track Record of Success
Barbati Hardwood Flooring has been installing hardwood flooring in Pennsylvania homes and businesses since 1987. We have installed new flooring in hundreds of houses, including historic homes.
After more than three decades in business, we're proud that over 90% of our work is for repeat customers and clients who were referred to us by past customers. That speaks to the quality of our work and our commitment to providing superior service. You can trust us with your hardwood floor installation project.
Get an Estimate from Local Wood Floor Installers
If you're thinking about installing hardwood flooring in your house, contact Barbati to request a quote. If you're not sure which species or type of flooring would best suit your needs and budget, we can explain your options and help you make an informed decision.
You don't necessarily have to purchase wood flooring from us. If you would rather buy your flooring somewhere else and just have us install it for you, we'd be happy to give you a quote for installation alone. Call Barbati Hardwood Flooring today at (484) 354-8869 to learn more about your hardwood flooring options or to get an estimate.