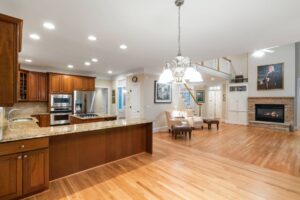 Pennsylvania homeowners choose Barbati Hardwood Flooring for hardwood floor installation and refinishing. We have been serving customers across the state since 1987 and have earned a reputation for providing quality work and excellent service. That's why more than 90% of our clients are repeat customers or referrals.
Our Team Can Install or Refinish Hardwood Floors in Your Home
We can install beautiful new hardwood flooring in one or more rooms and transform your home's interior. If you're feeling inspired to do something a bit unusual or unique, we can install a decorative border or work with you to design a medallion that will immediately catch people's attention when they come to visit.
If your home already has hardwood flooring, but it has become damaged by furniture scraping, pets' claws, or just years of daily foot traffic, we can refinish it and make the floors look as good as new. Our team can sand down the surface to reveal a new layer of fresh, undamaged wood. Then we can refinish the floor, either with the same color or with a different stain.
Trust Hardwood Flooring Professionals
You can purchase hardwood flooring or rent the equipment needed to refinish hardwood floors, but these really aren't the sorts of projects that you should try to tackle yourself. If you make a serious mistake, you might wind up having to hire a contractor to fix it.
Hardwood flooring needs to be installed carefully so the boards line up properly and so there aren't any large gaps. Even a minor mistake can lead to a finished floor that's uneven.
Refinishing is also a job that's best left to pros. Sanders can be difficult to manage. If you're not experienced, you can create deep gouges in the flooring that can be difficult to repair.
You will be better off just working with professionals from the outset. A member of the team at Barbati Hardwood Flooring can come to your house, discuss the hardwood flooring project you're thinking about, take measurements, and give you a quote. Contact us today at (484)354-8869 to learn more about our hardwood floor installation and refinishing services and to get an estimate.