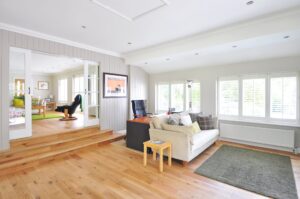 Installing new hardwood flooring or having your existing hardwood floors refinished can transform the appearance of your home and increase its value. Those jobs are complex and should only be entrusted to qualified professionals. If you're interested in hardwood flooring installation or refinishing, contact hardwood floor contractors near me.
Why You Should Choose a Contractor Carefully
Many companies install hardwood flooring or provide refinishing services, but that doesn't mean that they're all well qualified and capable of providing top-notch results. Handling hardwood flooring requires specialized training and equipment. Some businesses offer hardwood flooring services in addition to a wide range of other home improvements. Their workers may not have the in-depth training and experience that are necessary to deliver results of the highest quality.
At Barbati Hardwood Flooring, we specialize in installing and refinishing hardwood floors. We have been serving homeowners and business owners across Pennsylvania since 1987. Our business has grown and thrived by consistently meeting or exceeding our customers' expectations.
We offer a wide range of flooring products, including unfinished, prefinished, and engineered wood flooring. Our team can install nail down, staple down, glue down, and floating flooring.
If your house has hardwood floors that have scratches, gouges, and other forms of damage from years of wear and tear, we can sand and refinish them and make them look as beautiful as the day they were installed. If you own a historic home, we can refinish the floors and, if necessary, replace damaged boards with ones that so closely resemble the others that no one will be able to tell that they weren't part of the original installation.
Contact Hardwood Floor Contractors Near Me
You probably have questions about hardwood floor installation or refinishing. If you're not sure which type of flooring would be best suited to your home and your budget, we can explain the differences between them and help you decide. If you'd like to have your floors refinished and have questions about the process, we can tell you everything you need to know. Call Barbati Hardwood Flooring today at (484) 354-8869 to learn more about our services and to get an estimate.