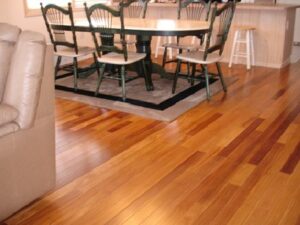 Installing new hardwood flooring is a complex process that requires the right training, experience, and equipment. That's why it's important to choose a qualified contractor. If you need help with hardwood floor installation PA, trust the team at Barbati Hardwood Flooring.
How Barbati Can Help You
If you want to install hardwood flooring in one or more rooms in your home, Barbati can handle the project for you to ensure it is done correctly the first time. You can purchase top-quality flooring from us and have our team install it, or you can buy the materials elsewhere and hire our company for installation only. We have experience installing nail-down flooring, staple flooring, glue-down flooring, and floating flooring.
Our team can also help with other types of projects. If you would like, we can install hardwood flooring on your stairs. If you already have hardwood on a staircase but would prefer a different style or to add a unique touch, we can accomplish that by using wood overlays.
You may have one or more sections that are too damaged to be fixed with sanding and refinishing. If that's the case, we may be able to remove damaged boards and install new flooring just in that area. After we have finished, it may be impossible to tell that one area has newer flooring than the rest of the room.
We can also install flooring in patterns to accentuate parts of a room. We can lay a border to draw attention to the hardwood flooring and create custom corners to draw visitors' gaze to those areas. Another option is to install a hardwood floor medallion. We can create a beautiful custom pattern to immediately capture the attention of anyone who walks into the room.
Get a Quote for Hardwood Floor Installation PA
Installing new hardwood flooring can dramatically improve your home's appearance, but only if it's done right. An inexperienced contractor may not deliver the kind of results you want. That's why it's important to work with a company that has a well-trained and qualified team and experience handling a wide range of projects. Barbati Hardwood Flooring has been helping homeowners across Pennsylvania beautify their properties for over three decades. Call us at (484) 354-8869 to request an estimate.