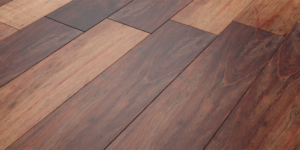 Many people would love to have wood floors in their home or business but are deterred by the cost or the installation time. A floating floor is quicker and easier to install and less expensive than other hardwood flooring options.
What Is a Floating Floor?
A floating wood floor clicks and locks together and floats above the existing floor. Since it is not nailed or glued to the subfloor, the floating floor can move as a unit as it expands or contracts. That can prevent gaps and warping.
The wood planks used for floating flooring are usually made of engineered wood made with hardwood overlaid on a high-density substrate. The edges of floating floorboards may have a tongue-and-groove or click system profile.
How Is a Floating Floor Installed?
The subfloor must be flat before a floating floor can be installed. Existing carpet needs to be removed prior to installation. Other types of existing flooring, such as laminate, tile, and concrete, can usually be left in place. After the subfloor has been cleaned and dried and an underlay has been installed, the boards are placed on top.
When they lay the floor, the installers will leave a gap around the perimeter of the room so the floor will be able to expand and contract as the weather and humidity change. The size of the gap required will depend on the type of flooring you choose.
A floating wood floor is also easy to remove. If you decide to change the floor again in the future, the process to remove it will be straightforward since the floor will not be nailed or glued to the subfloor.
Get a Quote for New Wood Flooring
Barbati Hardwood Flooring has been serving residential and commercial customers across Pennsylvania since 1987. Our team has experience installing floating flooring, as well as nail-down, staple, and glue-down flooring made from unfinished, prefinished, and engineered wood planks. We can also install distinctive borders, medallions, and inlays to enhance the appearance of your home or business. Call us at (484)354-8869 to learn more or to request an estimate for new hardwood flooring.