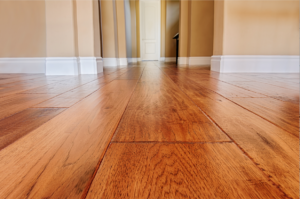 Hardwood flooring is a major financial investment that you want to last as long as possible. Wood floors can be damaged by regular wear and tear. When that happens, look for hardwood floor repair companies near me.
How a Hardwood Floor Repair Company Can Help You
If your hardwood flooring has suffered scratches or dents from foot traffic, scraping furniture, or pets' nails, the team at Barbati Hardwood Flooring can help. We can sand and refinish the floor to restore it to its original beauty. The refinishing work we offer is the most complete hardwood floor restoration process in the industry.
Historical homes typically have hardwood flooring that is of a much higher quality than flooring homeowners could purchase today. When hardwood floors in historical houses are damaged, restoring them is generally a much better option than replacing them.
The team at Barbati Hardwood Flooring has experience restoring hardwood floors in historical homes. We understand the unique challenges associated with these types of projects and make sure that our workers have the appropriate training and equipment to do the job right.
Why You Should Hire Professionals to Repair Your Hardwood Floors
Many homeowners love to tackle repairs themselves. While it's fine to DIY some projects to save money, certain things are best left to professionals.
Hardwood flooring can last a long time if it is properly maintained and if repairs are made when necessary. Unfortunately, many homeowners don't have the training and experience to correctly diagnose a problem and don't know how to use the appropriate equipment to fix it.
While there are plenty of articles and video tutorials available that could help you, there is still a good chance that you could make a mistake that would cause more damage. If you aren't confident that you understand the issue with the floor and know how to fix it, your best option is to look for hardwood floor repair companies near me.
Contact Local Hardwood Flooring Experts
Barbati Hardwood Flooring has been serving customers in Pennsylvania since 1987. We have installed and refinished hardwood floors in hundreds of homes and businesses. Because of our excellent service, more than 90 percent of our clients nowadays are repeat customers or people who were referred to us by satisfied customers. Contact us at (484)354-8869 to get a quote for hardwood floor repair.