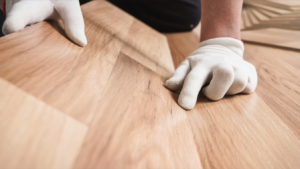 Homeowners choose hardwood floors because of their beauty and durability, but they can become worn out and damaged over time and may eventually reach a point of no return. These are some ways to know when hardwood floors are beyond repair.
Signs That Your Hardwood Floors Need to Be Replaced
Structural Damage: If the structure that supports your hardwood floor is unstable, you may feel boards moving and shaking when you walk across the floor. When hardwood floorboards expand and contract, the planks and nails can rub against each other and cause the floor to squeak and creak. If the problem continues after the floor has been sanded and resealed, it may be time to replace it.
No More Room for Refinishing: Sanding and refinishing a wood floor can restore its appearance, but it also causes the wood planks to become thinner. Eventually, there comes a point when the wood cannot be refinished anymore, and it's time to replace the floor.
Water Damage: Wood flooring absorbs water, which can cause it to warp and can damage the foundation beneath the floor. A wood floor with water damage may become stained and discolored, and boards may buckle. Once hardwood flooring reaches a moisture content of about 40 percent, it needs to be replaced before it experiences major damage.
Moisture and humidity can also lead to mold. If it is not addressed immediately, mold can spread, cause widespread damage to the floor, and affect your family's health.
Pest Damage: Termites and ants can eat away at hardwood flooring. If the damage is severe, you might be better off replacing the floor than paying an arm and a leg to hire an exterminator.
If Your Hardwood Floors Are Beyond Repair, Get a Quote for New Flooring
Barbati Hardwood Flooring has served hundreds of Pennsylvania customers since 1987. We have earned such a positive reputation that over 90 percent of our business comes from repeat customers or referrals.
We can install unfinished, prefinished, engineered, naildown, staple, gluedown, and floating flooring. If you would like to give your home a unique new look, we can install an attractive border, medallion, or inlay. Contact us at (484)354-8869 to learn more about hardwood flooring options and to request a quote.