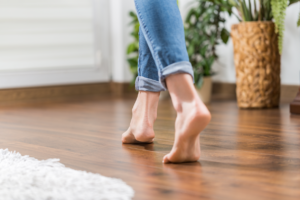 Even though hardwood floors are durable, they can become damaged by years of foot traffic, pet damage, water, and sunlight. Sometimes old wood floors can be spruced up with cleaning and a fresh coat of stain, but in other cases, restoring old wood floors by sanding and refinishing is necessary.
Signs That Your Hardwood Floors Need to Be Restored
Scratches: It's common for hardwood flooring to become worn over time, especially in high-traffic areas. Regular foot traffic can cause scratches, but they are typically minor and can often be covered with rugs. Pets' nails and furniture scraping the floor can cause larger and deeper scratches that can be more problematic. In most cases, scratches can be fixed by sanding and refinishing the floor. For deep scratches, some floorboards may need to be replaced.
Worn-out Finish/Water Damage: If the polyurethane wears off, a hardwood floor can become susceptible to water damage, which can cause the wood to turn a gray color. Refinishing the floor can prevent further damage. An easy way to tell if your floor needs to be refinished is to pour a small amount of water on it. If the wood absorbs the water, the seal has worn out and the floor needs to be refinished.
Sometimes water damage from a leak or flooding causes floorboards to cup. That might be able to be fixed with sanding. If boards are popping up or separating, however, the floor may need to be replaced.
Discoloration: Sunlight can cause the finish on wood flooring to fade, which can make the floor discolored. You may not notice it until you remove an area rug and see a stark difference in color. Sanding the floor can remove the top layer of discolored wood. Then the floor can be re-stained in the color of your choice.
Get an Estimate for Restoring Old Wood Floors
If you have noticed any of these problems, it may be time to have your floors sanded and refinished. Barbati Hardwood Flooring has been restoring old wood floors for Pennsylvania homeowners since 1987. We can sand and refinish your hardwood floors so you can have a smooth surface in an attractive color to complement your home's décor. Contact us at (484)354-8869 to learn more or to request a quote.